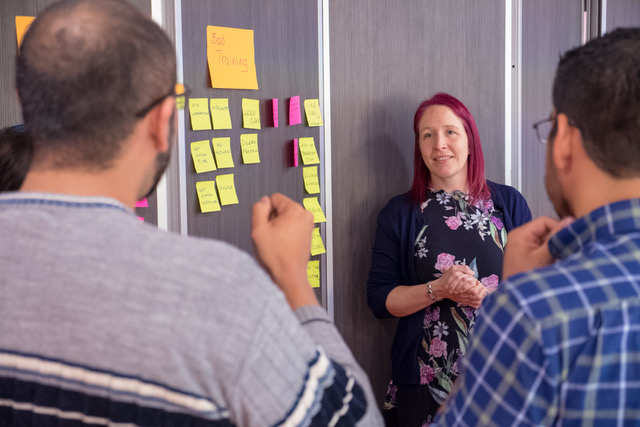 The goal of our train the trainer (TtT) activities is to help transform scientists based in our target countries  into effective and confident trainers. These individuals will fuel the delivery of an extensive training programme throughout Latin America. Our workshop programme is providing opportunities for CABANA's new trainers to deliver training.
We have adapted the EMBL-EBI train-the-trainer programme to reach a pan-Latin American audience. Selected researchers from Latin America, some of whom may also be visiting EMBL-EBI on secondment, can participate in an intense two-week programme in which they learn how to design and deliver excellent bioinformatics training, and how to monitor its impact going forward. They have the opportunity to make use of their learning by participating as trainers or demonstrators in an training course on one of CABANA's three challenge topics. On returning to Latin America, they are encouraged to participate as trainers in CABANA's workshop programme, with the goal of contributing to sustainable training programmes in their own institutes and across CABANA's budding network of bioinformatics training centres.
A small group of scientists visit for two weeks to receive tailor-made training on how to develop and deliver a successful bioinformatics training
Part of this time is spent developing training activities, which our visitors then immediately use by participating as trainers in a CABANA course on one of our challenge topics
This enables participants to expand their network in the UK because we will involve bioinformatics experts from other UK-based organisations
These activities lay the foundation for our partner institutions to develop a collaborative network of bioinformatics training centres in the region.
Additional information for courses
CABANA Travel Fellowships & Course Fee Bursary: The CABANA project has made available funds to provide 10 successful applicants from Latin American countries (excluding Chile and Uruguay) with a bursary to cover 100% of the course fee and up to £1125 towards travel costs. If you fulfill the selection criteria and wish to apply for a CABANA Travel Fellowship or Course Fee Bursary please complete this form in addition to your application. For virtual workshops there are no travel fellowships but we maintain our commitment to ensure gender and ethnicity balance in our courses.
CABANA Train the Trainer: CABANA TtT workshops run the week before the Biodiversity, Crop Plants and Communicable diseases courses. This course is aimed at researchers from Latin Americans interested in developing their bioinformatics training skills with the intention of running their own courses in the future. Applicants should have a background in biodiversity or bioinformatics research. All TtT participants will be awarded travel fellowships covering travel to and from the training location, will have their accommodation and catering taken care of during their stay and will benefit from a bursary to cover the course fee. For virtual workshops there are no travel fellowships.
Upcoming courses
Our Crop plants course is open for applications until 1st November 2021, you can find more information on the course webpage. If you wish to apply for the Train the trainer course associated with this workshop please visit the Train the trainer application form.
Please check here later or sign up to the CABANA mailing list.