Research Secondments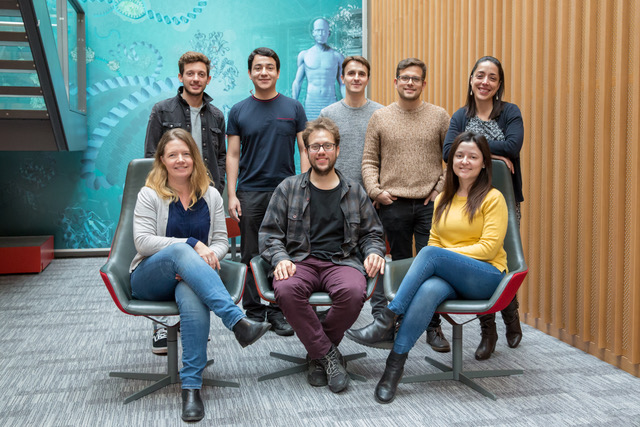 CABANA's research secondments are aimed at catalysing lasting collaborations between researchers in Latin America and bioinformatics groups in the UK, initially at EMBL-EBI.
Scientists from Latin America can apply for a secondment of 6 months to pursue a bioinformatics research project in the challenge areas of the CABANA project. These are communicable diseases, protecting biodiversity and food security
The project should be designed in collaboration of the host of your choice listed below from EMBL-EBI or a host institution in Latin America
Our hosts have identified ideas for projects that span curiosity-driven research, software development, data curation and creation of bioinformatics training materials. It is important that your proposed research topic is aligned with the research interests of your selected host
Secondments are open to scientists at MSc. level and above
Secondees will be responsible for their health insurance while in the UK
Take a look at CABANA Secondees
The outcomes of the secondments will be placed in the public domain:
Research papers will be published in open-access journals
Software will be licensed under open source licenses
Datasets will be made openly available (unless there are ethical reasons for controlling access) through public data resources and tools (including but not limited to those hosted by EMBL-EBI)
Training materials will be given a CC-BY-SA license and made freely available through EMBL-EBI's eLearning resource, Train online
Secondment benefits
The opportunity to engage and connect with the bioinformatics research community in the UK including scientists at the University of Cambridge and the Wellcome Sanger Institute as well as EMBL-EBI
The opportunity to collaborate with Latin American bioinformatics researchers in a different country
Return travel/to from home for secondment and after 3 months if required to visit family
A living expense allowance (LEA) of £1,000 per month less National Insurance Contributions (approx. 12.5 % per month). If the secondment is supported by other means, the LEA is reduced accordingly
A contribution of £450 per month towards accommodation
Secondment benefits (LEA) in Latin American universities and research institutes will be in line with host policy to the maximum of the EMBL-EBI benefits
The CABANA project will facilitate exempt vignette visa applications for secondments to EMBL-EBI. CABANA will not reimburse incidental costs such as postage and travel relating to the visa
Secondees will be responsible for applying for visas to all other institutions
The call for secondment places in 2019/2020 is now closed
Applicants will be notified in early March 2019
Take a look at CABANA Secondees
Secondments between Latin American institutions are dependent on a signed agreement between the host and the home institution being received at the EMBL-EBI prior to the start.
Hosts are in the UK and Latin America
Secondment host in the UK (Click on their name for more details of their research interest and publication list):
(Available from August 2019)

Director Emeritus of EMBL-EBI and Senior Scientist

Using enzymes in biotechnology - design and evolution
Studying protein variation and disease, from a structural perspective

Team Leader - Protein Function Content

Software development, text-mining and data filtering to provide a curation queue of papers containing human molecular interactions and protein complexes

Industry Programme Manager - Industry Programme office

Consultation with Latin American bioindustries, with the goal of providing industry support for bioinformatics in the region

(Available from July 2019)

Team Leader Molecular Networks - Hermjakob team

Curation of Human/Pathogen pathways in Reactome (ideally several six-month projects, each on a different disease theme)
The Omics Discovery Index: Efficient discovery of local and global omics datasets

Group Leader - Beltrao research group

Research projects on the theme of evolution of cellular networks, protein post-translational regulation, cancer genomics or genotype to phenotype mapping.

Head of Web Production

Development of new web-based services or programmatic access to them

Team Leader: Protein Function Development

In Collaboration with Sandra Orchard (above)

Computational annotation of protein sequences, data mining and analysis tools
Data integration technologies and format
Protein data visualization design and web technologies
Enzymes and biocatalysis services
Gene Ontology services and programmatic access

(Available from September 2019)

Team Leader - Gene Expression

Projects related to:

Analysis or visualisation of bulk and single cell transcriptomics,
Linking gene expression to phenotypes,
Characterising cell types

Proteomics Team Leader - Vizcaino Team: Proteomics

Development of data integration approaches involving mass spectrometry proteomics data
Re-analysis of proteomics datasets to create an updated view of the proteome or metaproteome (e.g. for relevant Latin American pathogens, crops or livestock species)
Proteogenomics analysis and related genome annotation activities for relevant organisms in Latin America

(Available from June 2019)

Team Leader, Sequence Families

Analysing metagenomics datasets from different ecological niches to understand the taxonomic and functional repertoire present and adaptation
Recovery of genomes from metagenomic datasets, identification and investigation of novel proteins and pathways
Curation of Pfam entries for specific genomes of agricultural or disease relevance

Team Leader, European Nucleotide Archive

Curating and adding value to data in the area of Zika and/or other currently relevant pathogens including bacterial pathogens

Senior Scientist and Team Leader, Vertebrate Genomics

Genomics of livestock species or endangered vertebrate species
Genomics of crops and pathogens

Head of the EMBL-EBI Training Programme

Development of training materials and training methods of relevance to CABANA's three challenges
Piloting remote participation in courses
Adaptation and translation of existing training materials for new target audiences such as undergraduates and schools

Team Leader, Genome Analysis

Defining regulatory elements from large epigenomic datasets
Defining cis-regulatory interactions from Hi-C and eQTL
GWAS functional analysis pipeline

Group Leader - Petsalaki research group

Topics related to network inference and data integration

Research Group Leader - Iqbal research group

Diagnostics and surveillance of drug resistance in tuberculosis, in S. America and across the world

Team Leader - O'Donovan team: Metabolomics

Identifying the Metabolomes of model organisms
Identifying the Metabolomes of commercial crops and their pathogens
Building a reference set of chemical compounds and their metabolomic context

Team Leader, PDBe content and integration

enrichment of 3D macromolecular structures in the PDB with added-value annotations and analysis of assembled data sets
development of innovative web-based visualisation tools for 3D structure data

Senior Team Leader, Protein sequence resources

Computational characterisation of bacterial host interacting proteins.
Investigation of protein domain composition, discovery of novel protein domains, correlated mutation analysis and sequence analysis of host binding domains.

Team Leader, EGA and Archive Infrastructure

Rodent diversity, rodent genetics and genomics, environmental adaptation

Head of Chemistry Services

Drug Discovery
Molecule design (Including structure-based design)
Cheminformatics, Computational chemistry, Chemogenomics
Machine learning
Text mining

Scientific Training Coordinator, EMBL-EBI

Development of training programmes and course curricula (both face to face and online)
Analysis of training quality and impact
New trainer development and mentoring

Genetics and Genomics, The Roslin Institute

Genome sequencing of farmed animals
Genome sequencing of Suina species
Phyologenomics
Genetics of complex traits

Claire Jenkins

Head of E. coli, Shigella, Yersinia and Vibrio Reference Service

Public Health
Gastrointestinal infections
Whole genome sequencing

Team Leader, Eukaryotic Annotation

Vertebrate genome annotation and comparative genomics
Genomics of helminths (parasitic worms)
Model organism genomics
Investigators from Latin American countries are warmly invited to apply for fellowships at the following locations:
Centro Internacional de la Papa, Peru

Determining and monitoring plant-associated microbiome and/or pathogen populations to support sustainable food production
Metagenomic biodiversity analysis in response to climate change in different agro-ecologies

University of Costa Rica

Plant pathogens such as Hemileia Vastatrix
Comparative transcriptone profile of defense-related genes in coffee plants infected by Xylella FastidiosaStudy of genes related to the flowering process in coffee:Towards improvemenst in a climate change scenarion
In vitro cultivation and mutants
Safety of genetically modified crops

Centro de Investigación y de Estudios Avanzados - Cinvestav, Mexico


Development of time-efficient phylogenomic gene annotation methods for non model organisms.
Reconstruction of gene regulatory networks from high-throughput sequencing data.

Centro de Investigación y de Estudios Avanzados - Cinvestav, Mexico


Discovery of gene regulation motifs using high-throughput functional genomics experiments
Exploring signatures of selection across whole genomes

Centro de Investigación y de Estudios Avanzados - Cinvestav, Mexico


Study of gene regulation during tissue regeneration across kingdoms, using high-throughput functional genomics experiments
Search for signatures of domestication and introgression in crop plants native to Mexico

Bioinformatics Unit at the National Institute for Agricultural Technologies (CNIA-INTA), Argentina


Discovery of candidate genes involved in stress (biotic and abiotic) response in sunflower through NGS RNA-seq experiments.
Discovery of new markers linked to traits of interest using GBS (genotype by sequencing).

University of Buenos Aires (UBA), Argentina


Developing of new high throughput docking techniques to identify new drug for infectious diseases.
From genomes to drugs: whole genome structural analysis

University of Buenos Aires (UBA), Argentina


Study of SNP on protein function by using structural bioinformatics tools
Study of Rare diseases by Whole Exome Sequencing and Whole Genome Sequencing techniques.

University of Buenos Aires (UBA), Argentina


Reconstruction of metabolic networks from whole genome sequencing and RNA-seq data
Identification of new targets in tuberculosis and Klebsiella pneumoniae

Marco Cristancho


University of the Andes, Colombia


Development of molecular tags for Latin American endemic plants
Whole genome sequencing of the coffee rust pathogen

University of Costa Rica/CIET

Comparative microbial genomics
Antimicrobial resistance and genomic epidemiology of Clostridium difficile

Universidad de San Martín de Porres - Centro de Genética y Biología Molecular, Peru


Determination of ancestry and reconstructing pre-Columbian history of South American human populations with genomic markers
Genomic and Epigenomic changes in cancer tumours

Rebeca Campos


Universidad de Costa Rica (UCR) - Centro de Investigación en Biología Celular y Molecular


Description of the microbial gut community and its implication in the weight of infants from Costa Rica
Bioinformatics and Biostatistics Network applied to research and teaching (RedBioAplicada)
Developing e-Learning tutorials (written in Spanish and English) for CABANA on three data analysis pipelines: transcriptomics, genome assembly, and metagenomics. Currently recruiting two secondees for 2019.

Development and optimization of bioinformatic pipelines for amplicon metagenomic data and viral shotgun metagenomic data.
Developing e-Learning tutorials (written in Spanish and English) for CABANA on metagenomic analysis
Please join the CABANA mailing list if you would like to be alerted when new opportunities open.